In his enchanting debut feature, Jacques Tati stars as a fussbudget of a postman who is thrown for a loop when a traveling fair comes to his village. Even in this early work, Tati was brilliantly toying with the devices (silent visual gags, minimal yet deftly deployed sound effects) and exploring the theme (the absurdity of our increasing reliance on technology) that would define his cinema.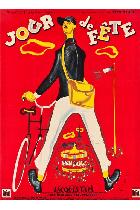 For this monumental achievement, a nearly three-year-long, bank-breaking production, Tati again thrust the lovably old-fashioned Monsieur Hulot, along with a host of other lost souls, into a baffling modern world, this time Paris. With every inch of its super wide frame crammed with hilarity and inventiveness, PlayTime is a lasting record of a modern era tiptoeing on the edge of oblivion.
Jacques Tati's eccentric, hero, Monsieur Hulot, is set loose in Villa Arpel, the oppressively ultramodern home of his brother-in-law, and in the antiseptic plastic hose factory where he gets a job. The second Hulot movie and Tati's first colour film, Mon oncle is a supremely amusing satire of mechanised living and consumer society that earned the director the Academy Award for best foreign-language film.